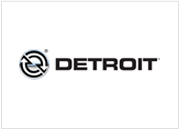 Detroit Apparel & Products
Since 2000, Detroit Diesel Corporation has been a part of Daimler Trucks North America, joining Freightliner Trucks, Western Star Trucks, Thomas Built Buses and Freightliner Custom Chassis Corporation. In 2011, the company name changed from Detroit Diesel to Detroit.
As a part of Daimler, Detroit has access to the global resources and expertise of the world's foremost transportation company. It's a relationship that benefits their customers.
Detroit
Showing 1–12 of 15 results