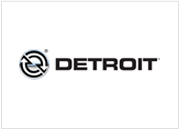 Detroit Apparel & Products
With a proven track record in the design and manufacture of heavy-duty diesel engines, Detroit offers customers a superior level of reliability and performance. Detroit ensures the highest level of support, backed by our extensive national service network and our factory-trained technicians. Solely distributed by Penske in Australia and New Zealand, Detroit engines are available in a wide variety of horsepower and torque configurations.
To learn more about Detroit visit www.detroitaustralia.com.au.
Detroit
Showing 1–12 of 16 results