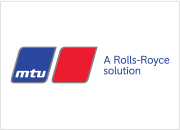 MTU Apparel & Products
MTU Friedrichshafen is the core business of Rolls-Royce Power Systems, a division of Rolls-Royce plc. With headquarters in Friedrichshafen, Germany, they employ over 10,000 people worldwide. With over 30 subsidiaries and more than 1,200 development, production, service and sales locations in 130 countries, we are at our customers' disposal across the globe.
Under the MTU brand, they develop and produce large high-speed engines and propulsion systems for ships and heavy land, rail and defence vehicles, as well as drive systems for use in the oil and gas industry and in power generation. Their diesel engines and gas engines are capable of power outputs up to 10,000 kW and 2,535 kW respectively. MTU also supplies customized electronic automation and control units for its engines and propulsion systems.