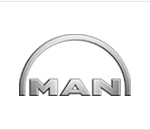 MAN Apparel & Products
With a history dating back over 250 years and a world-class pedigree, MAN Truck & Bus produces some of the world's finest trucks and buses. Proudly distributed in Australia and New Zealand by Penske, MAN's diverse truck portfolio is renowned for low whole of life costs, cabins that provide a quiet and ergonomic environment, and German engineering that maximises safety and efficiency. MAN's bus range redefines efficiency, safety, and comfort and caters for a wide range of customer applications from heavy-duty, long-distance transportation solutions to city bus, coach, and school buses.
To learn more about MAN Truck & Bus visit www.man.com.au, www.penskenz.com, or www.man.co.nz.
MAN
Showing 1–12 of 19 results