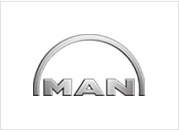 MAN Apparel & Products
MAN Truck & Bus is one of the leading international suppliers of commercial vehicles and transport solutions, and is proudly distributed in Australia and New Zealand by Penske Commercial Vehicles. Boasting modern technology, MAN's truck range is renowned for its high power and outstanding dynamics. Combined with class-leading fuel economy and extended service intervals, our trucks are designed for low whole-of-life operating costs. With our bus range, we are redefining efficiency, safety and comfort.
To learn more about MAN Truck & Bus visit man.com.au.
Stationery
Showing the single result