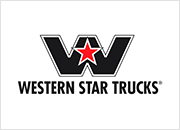 Western Star Apparel & Products
Western Star remains the world's premier producer of custom heavy-duty trucks, engineered for the toughest vocations. Proudly distributed by Penske Commercial Vehicles in Australia and New Zealand, Western Star trucks deliver the ultimate return on investment for businesses and are unrivalled for their power and durability. With full customisation to match exacting customer needs, our entire range of 2800, 4700, 4800, 4900, 5800, 6900 trucks is built by hand for the ultimate attention to detail.
To learn more about the range visit westernstar.com.au.
Bags
Showing the single result